Your Journey To Future Skin Starts Today............
WE HAVE MOVED...........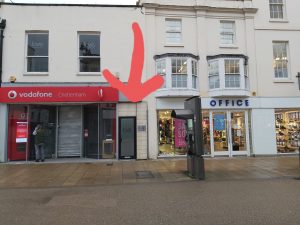 Future Skin has moved!!
Do not fear we haven't gone far, we are a 30 second walk from our previous premises.
We are now based in Love the salon on the high street, between Vodafone and the office shoe shop. 154 High Street, Cheltenham, GL50 1EN.
We will no longer have a landline number, all bookings and inquiries will be through my mobile on 07969 613959.
COVID-19.... Re-opening Update
Your safety and that of ours is our top priority. We have always provided the highest level of health and safety throughout the salon.
We are excited to announce the clinic is reopening on Friday 17th July. Priority appointments will be for client's who were booked in March, April and new client's.
We look forward to inviting you back.
Going forward with the "New Normal" there will be new protocols in place when attending for an appointment.
Pre- Appointment
You will need to have an appointment booked with us to enter the salon. You will be asked to attend the salon alone and please minimize the number of personal belongings that you bring with you. Please make sure you arrive at the designated appointment time, do not arrive too early as you will not be able to enter the salon which will result in you waiting outside as the salon door will be locked. Do not attend your appointment too late, this will result in us having to re arrange your appointment, we are having to leave 15 minutes in between each client for disinfecting, this has resulted in a tighter time frame for appointments. If you are late, and we do have to re arrange, there will be a charge of £30.
Social Distancing
We are allowing more time between each client. This is time for us to disinfect and sanitize. The salon door will be locked whilst we are treating our clients to enable the 2 meter distancing. Please make sure you arrive on time to help us keep these measures working effectively.
Hand Hygiene
To help keep you all safe, we are enforcing a strict hand hygiene for all staff and clients. All clients will be asked to wash there hands when they enter the salon and when they depart. There is a hand sanitizing stations as you enter the salon for clients use.
PPE
All members of staff will be fully supplied with disposable PPE. Client's are advised to arrive to the salon with their own face covering as you must be wearing one at all times, you will not be able to enter the salon without one, if you do not have access to a face covering we will supply you one with a cost of £2.50. Client's who are attending for facial treatments please come make up free.
Service Provided
Unfortunately our normal service we provide from refreshments to magazines will currently be on hold. We need to minimize as much contact in the salon as possible. This does not mean you cannot bring you own along, please feel free.
As you will have paperwork to sign on each visit please bring along your own pen, we will have pens available for you, but again the more you can do to help the spread of infection the better.
Symptoms of Covid-19
If you or any members of your household are experiencing any symptoms of the virus, please self isolate and contact us asap to reschedule your appointment. If any staff members do experience symptoms, we will contact all clients who have been in contact with that staff member 2 weeks prior to make them aware. This will help with the contact and trace to control the virus.
Welcome to Future Skin
Future Skin is an Aesthetic Clinic offering advanced Laser hair removal, Skin Treatments and Injectable procedures from Botox® to Dermal Fillers, in the heart of The Cotswold's, in the town centre of Cheltenham. Future Skin is half the price of all major competitors around the country. Here at Future Skin we want everyone to try the services we have to offer without breaking the bank balance. 

We have one of the very best laser machines on the market from Cynosure with the Alexandrite and ND Yag built into one machine, to treat all skin types safely and effectively.


 
Our opening times
Monday

We are closed

Tuesday

09:30-18:00

Wednesday

09:30-18:00

Thursday

09.30-18:00

Friday

09:30-18:00

Saturday

09:30-17:00

Sunday

We are closed
Gift Vouchers Available
Gift vouchers available in clinic, we can also post these out to you if you are unable to get to us, just call the salon and make payment over the phone for postage!
Treat That Special Someone
Unsure what to buy a special friend or loved one, then look no further, the perfect gift for that special person. You can purchase treatments or buy a monetary value of your choice.
Contact Us
Sue Griffiths (Garside) Aesthetic Practitioner/ Clinical Director


Karen Brereton (Liggins) Clinical Registered Nurse

 

Tel:

07969613959


Email: futureskin2016@gmail.com

154 High Street


Cheltenham

GL50 1EN


(Entrance to Love the Salon)

 
(Upstairs Extreme Lengths Salon)