What is pigmentation?
There are various types of pigmentation, freckles, Lentingo (lentigines), Chloasmata (liver/age spots), Dermatosis papulose nigra, vascular naevi, melasma.
Freckles- When clients come to me for a skin consultation they always say" oh I have freckles, I've always had them", they seem shocked when I tell them that they have not always had them and that they were not born with them, when I inform them it is caused by sun damage, they cannot believe it. Freckles are more prone in red hairs, porcelain skin, this is because they are more sensitive to the sun, and when skin is exposed to UV light this stimulates melanin (which is your natural UV defence) and intensifies the appearance of them. A physical SPF 30 should be worn every day to help prevent further damage to the skin. Laser works amazingly on these, the laser beam will attract to the pigment to cauterise and come away.
Prices start from £49
Lentingo- Hyper-pigmented areas of the skin, slightly larger than freckles, Lentingo simplex occurs in childhood. Actinic lentigines occur in middle age as a result of sun exposure. These are brown, slightly raised, pigmented patches of skin, ranging in size. A combination of laser and advanced electrolysis to reduce and even the skin tone and texture.
Prices start from £49
Chloasmata (Age Spots)- Hyper-pigmented in specific areas, stimulated by a skin irritant such as UV usually affecting women and darkly pigmented skins. They appear flat, smooth, irregularly shaped, varying in colour from light brown to tan. Laser will cauterise these to remove. Prices start from £49
Dermatosis papulose nigra- Often called flesh moles, this characterized by multiple benign, small brown to black hyper pigmented papules, common among black-skinned people. Advanced electrolysis will remove these.
Prices start from £50
Vascular Naevi- small or large areas of skin pigmentation are caused by the permanent dilation of blood capillaries, can be caused by injury or inflammation. Advanced electrolysis will reduce these a minimum of 3 treatments for desired result.
Prices start from £50
Melasma- Also known as mask of pregnancy, associated with hormones, contraceptive pill, medication can cause this. Appearance is like a butterfly effect of hyper-pigmented skin. Laser can sometimes make melisma worse, peels can take a long time to draw the pigmentation out, for best results with the use of the Obagi Nu derm medical products, an 18-week programme with the use of hydroquinone and tretinoin to turn the cells over faster and lighten the patches.
Prices start from £480
Real Clients At Future Skin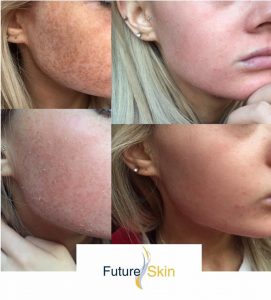 This Client Used The Obagi Nu Derm System. She Had Always Suffered With Freckles Which Really Knocked Her Confidence. The Client Had Tried Everything Possible, She Tried Many Over The Counter Products Which Did Not Work. She Came To Future Skin For A Free Skin Consultation, So We Could Assess The Skin And See What Would Be The Best Possible Treatment.
The Client Was Amazed With The Result's We Achieved And Is More Confident Wearing Less Make Up.