Why do we get acne?
Hormone imbalance in the body at puberty influences the activity or sebaceous gland, causing an increased production of sebum. The sebum may be retained within the sebaceous ducts, causing congestion and bacterial infection of the surrounding tissues.
Who suffers with acne?
Everyone at some point of their life would have had the odd spot or congested area on the skin from the face to the body. Acne is not only found in teenagers through puberty but over the years it has become more common in adults. Why you ask? Lifestyle has changed massively over the years, people are working harder, which influences factors like stress which can cause acne.
Is there a cure?
Unfortunately, there is no cure for acne, medication from the doctor can help get the hormone under control however sometimes this is not enough. At Future Skin we can help control the acne with the use of cosmeceutical products from Dermaquest and Obagi. To have a tailored skin routine at home will help to maintain results from your treatments in clinic. Dermaquest Pumpkin peel or Obagi Blue Radiance peel combined with laser rejuvenation will help to keep your acne under control.
Acne Scarring
Acne scars can come in many shapes, size and even color. Scars can appear pitted, cratered or even discoloration to the skin (hyper or hypo pigmentation) Scarring is caused by acne, inflammation/ trauma to the skin.
Dermaroller combined with peels and laser will help to improve the appearance of the scars, even the skin tone and texture.
Peel prices start from £50, Laser from £150 and Dermaroller from £182.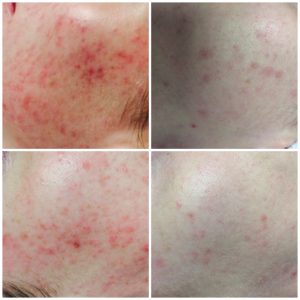 Real Client at Future Skin After 6 peels and 3 dermaroller treatments